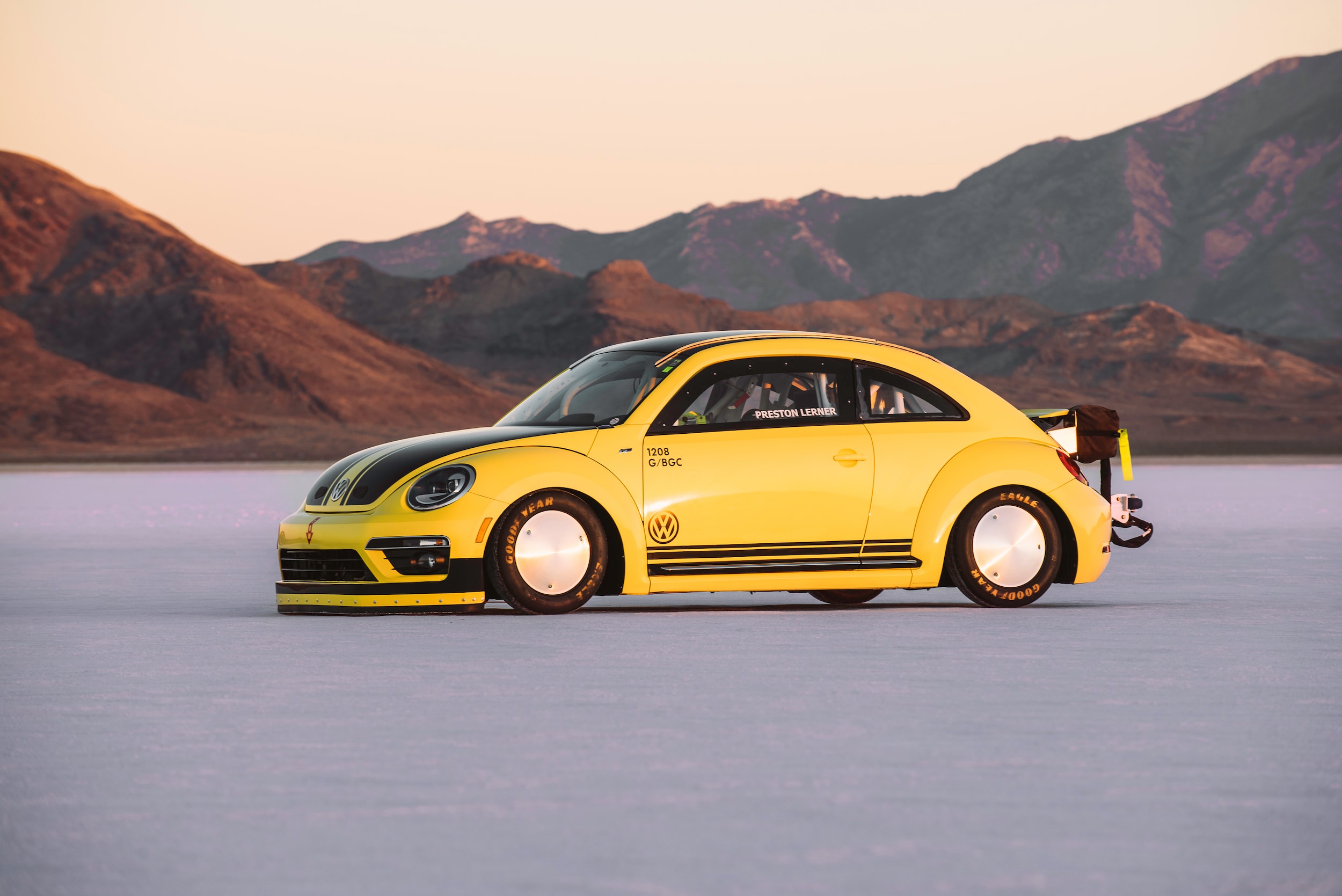 On September 19th, 2016, Volkswagen of America, Inc. announced that the VW Beetle LSR achieved 205.122 mph over a flying mile in the Utah Salt Flats Racing Association 2016 Speed Event; which is the fastest speed recorded in history for a Beetle. It was specially tuned, powered by a 2.0-liter turbocharged direct-injection four-cylinder TSI® gasoline engine, and driven by Preston Lerner on the Bonneville Salt Flats in Wendover, Utah. 
"We are completely thrilled with the Beetle LSR's performance at Bonneville," said Dr. Hendrik Muth, Senior Vice President, Product Marketing and Strategy, Volkswagen of America, Inc. "The Beetle is not the most aerodynamic car in our portfolio, so running 205 mph is a testament to the power that can be made from the EA888 TSI four-cylinder engine. This feat truly underscores the sporty and pugnacious spirit of the Beetle."
The winning Beetle's powertrain was specially modified by THR Manufacturing and adhered to Southern California's Timing Association G/BGC rules. It was also equipped with special Salt Flat tires, a limited-slip differential added to aid traction, and parachutes to slow it down. The interior was stripped for a rollcage, racing seat and harness, and a fire suppression system. With all of its modifications, it produced 543 horsepower and 421 lb-ft of torque at the wheels.
Volkswagen's stock Beetle R-Line® coupe model can accelerate from 0 to 60 mph in 6.6 seconds thanks to its EA888 turbocharged and direct-injection 2.0-liter TSI® engine. The R-Line comes with a standard six-speed manual transmission or dual-clutch DSG® six-speed automatic transmission. 
If you're ready to own a speedy little VW Beetle of your own, visit us here at Wallace Volkswagen in Bristol, TN. We provide excellent customer service and financing, and we want to put you in your dream car! Whether you want to speed down the Salt Flats or cruise through Bristol, TN, Wallace Volkswagen is your first and last stop. Browse our inventory today and start living the fast life!